Rolling Chassis Prototype – a Battery Electric Vehicle Development Platform
In general electrification and connected services require a more intense degree of interplay between various mechatronic subsystems. Functions need to be derived based on the overall system, which forces automotive suppliers to strengthen their engineering competencies at the overall vehicle level.
The rolling chassis is a drivable modular development platform for electric vehicles, which Bosch constructed in collaboration with the chassis expert Benteler. It demonstrates as a technological showpiece how all of Bosch's products for electric vehicles can be integrated. The CEVOLVER activities are an integral part of this development project at Bosch.
With the first chassis equipped with a roll cage, Bosch focusses on the aspects of vehicle motion, vehicle stabilization, driving dynamics and crash safety. In addition, a second, full body, prototype version was designed, constructed and build. This prototype provides the necessary basis to implement and test CEVOLVER solutions for an extended and/or optimized operating strategy within the Bosch vehicle control unit (VCU). This vehicle is suitable for testing such aspects as model based thermal management and enhanced cloud-based features and functions provided by CEVOLVER partners.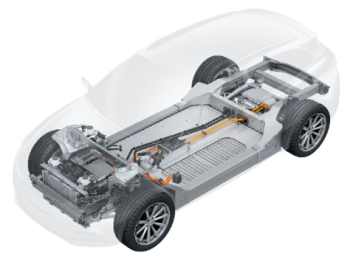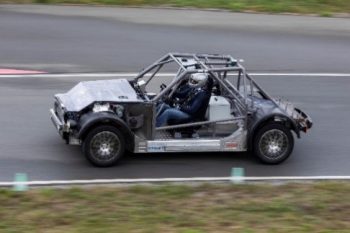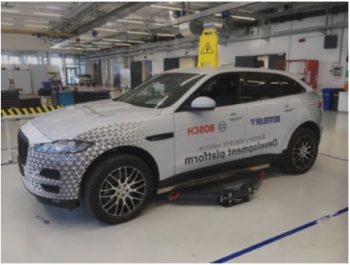 With its scalable pre-integrated modules and complete rolling chassis solutions, Bosch helps start-ups as well as traditional automobile manufacturers bring electric vehicles onto the market more quickly than before. This approach helps established carmakers to further increase their engineering efficiency and gives start-ups access to the knowledge and expertise required to build electric vehicles.
Besides CEVOLVER features the core of Bosch's pre-integrated system solutions is the optimized interaction of drive, steering, brakes and vehicle control in the so-called advanced driving module. As a harmonized module with the latest hardware and software, the advanced driving module aims at reducing complexity and minimizes efforts for car makers. The simplified access to the component group through harmonized protocols and predefined interfaces reduces the amount of integration work for automobile manufacturers by up to 80 percent. The advanced driving module meets the highest safety standards up to ASIL D, it can be flexibly integrated into all E/E architectures and further enhanced with added functions, like various manifestations of an efficient thermal management.
Thanks to the scalable approach, Bosch's pre-integrated system solutions can be integrated in a wide variety of vehicle variants. The efficiency gain in development enables carmakers to focus on brand-specific topics like interior, displays or connectivity.
Henrick Brandes
Powertrain Systems E-Mobility (CR/AVS1)
Robert Bosch GmbH